I began my startup journey more than 10 years ago. With a somewhat vague goal – to make software intelligent, because I thought software was pretty dumb.
Funnily enough, it still is.
However, over the years, my thoughts have crystallised. Rather than going after esoteric goals like "making software intelligent", we have made our goals more specific now.
Also, I now think more in terms of 'output' than 'input'. Ends rather than means, you know.
Our Angels
Today, I am excited to announce our first round of funding for Humantic AI. We have raised $1.5M from a stellar group of angel investors, including Gokul Rajaram (Product, Doordash), Amit Singh (CBO, Palo Alto Networks), John Donovan (ex-CEO AT&T Communications), Binny Bansal (founder, Flipkart), Sharath Keshava Narayana (Cofounder, Observe AI) and some other highly respected angels. Sharath will be joining the Humantic AI board with me.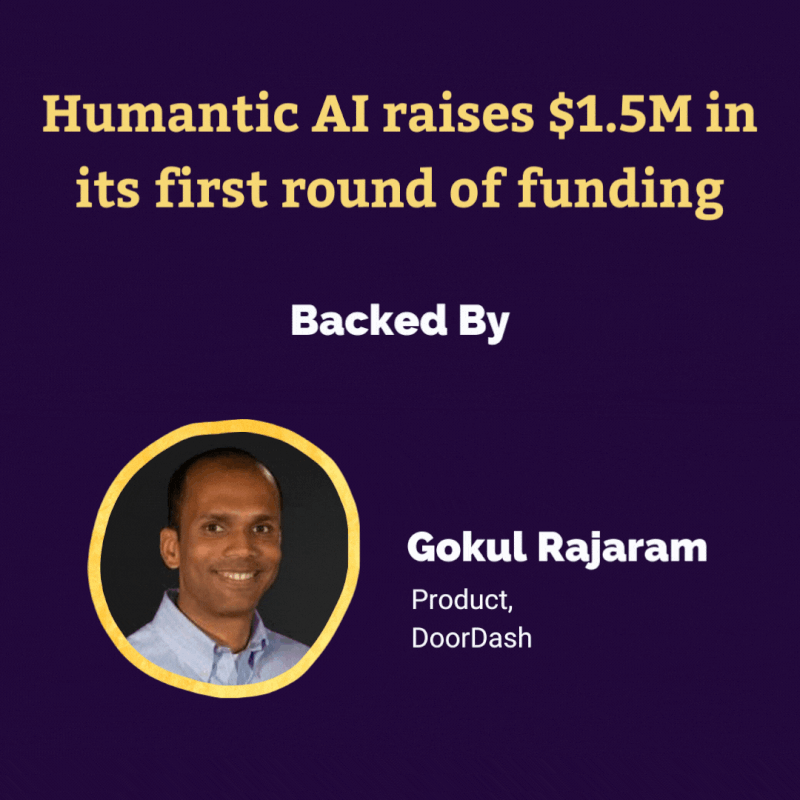 How we intend to put this money to use
We have a slightly ambitious goal. To humanize the internet.
As virtual interactions become more prevalent, technology tends to put more distance between us. AI even more so. But at Humantic AI, we believe we can harness the same technology, the same AI, to rather reduce the distance between us.
It starts by helping people understand each other. Because when we understand each other, distances decrease, barriers come down, trust builds, and relationships flourish.
We call it 'people intelligence'. The way Stripe has built a layer of payments for the internet, or Open AI is building a layer of cloud AI, we intend to build a layer of people intelligence for the internet.
Our current focus is squarely on providing people intelligence to revenue teams. Or what we call 'prospect intelligence'. With our pathbreaking 'personality AI' technology (WSJ once referred to its earlier avatar as "technology that will reshape the world") at the core, we are equipping revenue teams with insights that truly connect them to their prospects and inspire trust that is vital to selling.
Everyone in Sales agrees that ultimately it's people who buy – not companies – but when we ask sales leaders what they know about these people, they have nothing beyond email IDs and Linkedin URLs!
We believe that is going to change. Looking at our growth so far, I can tell you that the market knows it too. In fact, it is asking for it.
Context
Humantic AI was formally started only in April 2021. However, the idea, and the first couple of iterations, were conceived as part of my earlier startup, Frrole AI. We have used part of this round to completely separate Humantic AI from Frrole AI. Some of the Frrole investors would be joining us on the cap table of Humantic AI, while others have chosen to take an exit. We've also managed to give an exit to all ex-employees of Frrole who held ESOPs – something I am particularly proud of.
'Humanizing the internet' is a lofty goal. But from my motorcycle racing days to my martial arts journey, 'easy' is what I have always eschewed. And now, from our investors to our team, we have a group of like-minded zealots coming together who I know will never settle for anything less. If you're a limit pusher who likes to shoot for the impossible, you know exactly where you will find your tribe.
– Amarpreet
Founder, Humantic AI
P.S. I want to give special thanks to Sharath and Gokul here – Sharath for keeping the faith over the years through the highs and lows; and Gokul for being the first angel to put his faith in us. We couldn't have asked for better compadres!