Data is the backbone of every business today.
However, just having data doesn't get you meaningful results, correct data and insights do. Data that's useful, and insights that are relevant so that you can make sense of the 5W1H of your next step.
When it comes to sales intelligence, a plethora of tools are available to help you today. However, not all of them are valuable and most can be quite a waste of time and money.
We've curated a list of some of the best sales intelligence tools to save you the trouble from spiralling down that tunnel on your own.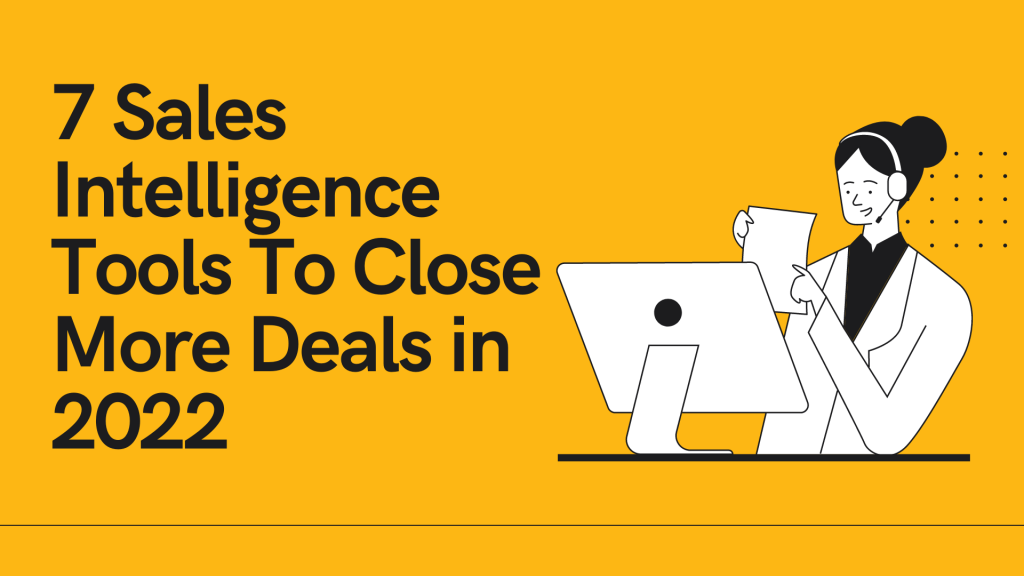 Gong
Often, precious insights gathered during a sales call are just sitting inside your salesperson's head, stored away safely, and never seeing the light of day.
Gong's revenue intelligence platform rectifies this by helping you analyze the data gathered from your sales calls.
In writing, this time.
By capturing your sales calls and processing the data gathered, Gong provides insights about your customers so you'll know when and how you need to move to close the deal.
Updating your sales strategy with Gong transforms your hesitant hypotheses into actionable insights.
Check it out at https://gong.io
Clearbit
Clearbit is another prospecting tool you can use when you need more info on your leads.
Besides segmenting and compiling your leads' contact info, Clearbit also builds a customer profile on the company and your contact.
This way, you have all the data you need in one place when reaching out.
It also keeps tabs on people on your list, so you'll know when they visit your website and you can reach out while you're still on their minds.
Check it out at https://clearbit.com
Humantic AI

Oh, I can already see you rolling your eyes.
Of course, we're on the list. For the right reasons, though — check out what 00s of our happy (more like ecstatic) customers have to say.
Humantic AI is the personality insight AI that you need to understand exactly what you will need to do or say, to move a deal forward. It helps you find the strategy to connect with your prospects in any sales interaction based on their personality and decision-making style.
Use personality insights as a guiding light in your next sales email, call, or meeting and see what difference it starts making, immediately.
Check it out at https://humantic.ai/sales
ZoomInfo
ZoomInfo helps you with prospecting in the B2B market.
If you have experience with prospecting, you know it's a painful experience involving tons of manual work.
ZoomInfo helps you minimize the effort by curating and updating your prospect's contact info with a dependable B2B database.
Besides curating important news and information, ZoomInfo takes things one step further by using AI to help you catch companies that are ready to buy so you can prioritize your outreach.
Check it out at https://zoominfo.com
Wingman
Wingman is a conversation intelligence platform that will optimize the performance of your sales team.
Besides your standard call transcript feature, Wingman also gives you live tips so you can perform better on a call. Wingman can also generate a sales performance analysis report when you need to see how your sales team is doing and what you can improve.
True to its name, Wingman's powerful features assist your sales team both during the call and in improving future calls so you can get more done with each sales call.
Check it out at https://trywingman.com
InsideView
Ranging from products that help you identify new markets to ones that will give you insights into prospects, InsideView has a lot of solutions to offer.
It collects, updates, and monitors data on specific companies or people so you can find the right connections and moments to strike up a conversation.
Using data as fuel, you can swoop in through the right channel when it's time for your prospects to purchase.
Check it out at https://insideview.com
6sense
6sense powers your account-based customer journey with AI to predict who's ready to buy and when.
By using the data gathered from your buyer's journey, you can prioritize the deals that are about to happen and close the deal at the right time with the right message.
Besides identifying the when and who, 6sense takes it a step further by providing you with research on the prospects to solve the how.
Check it out at https://6sense.com
Summary
Upgrading your sales team with these tools is the best investment you can make if you want to have a shot at surpassing the competition and growing your revenue this year.
In 2021, using most of these tools won't earn you the "high-tech" badge anymore. It just levels the playing field so that you can catch up with your competitors, or at least not fall behind them.